FOLA is a national voice for the 12 million users of Australia's public libraries, and in particular for the users of public libraries which have now established Friends of Libraries groups.

FOLA 20 years celebration
FOLA celebrates 20 years at State Library of Victoria, 9 December 2014
See
MORE
FOLA
NEWS
below for the group photo



May we help your friends of the library or your library?
See what FOLA can do for you and your library
View the suggested new FOLA Mission Statement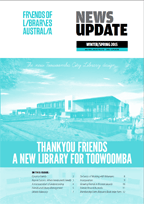 Thank you Friends. A New Library For Toowoonba.
View the latest FOLA Newsletter containing latest news from FOLA and FOLA Friends Groups.


LATEST NEWS