Latest News
FOLA 20 years celebration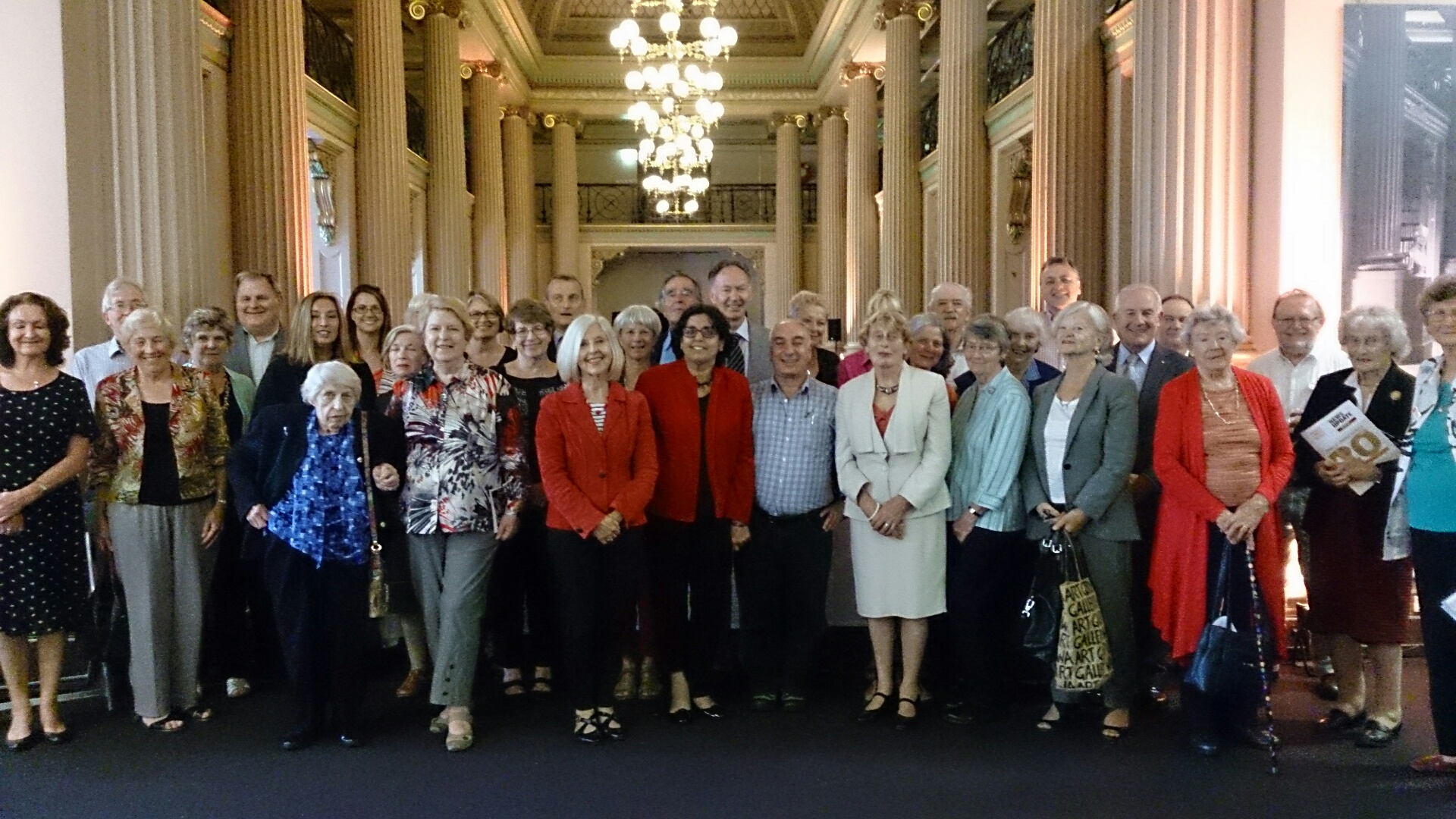 Click for enlarge
(FOLA celebrates 20 years at State Library of Victoria, 9 December 2014)
20th FOLA AGM at Salisbury Library, SA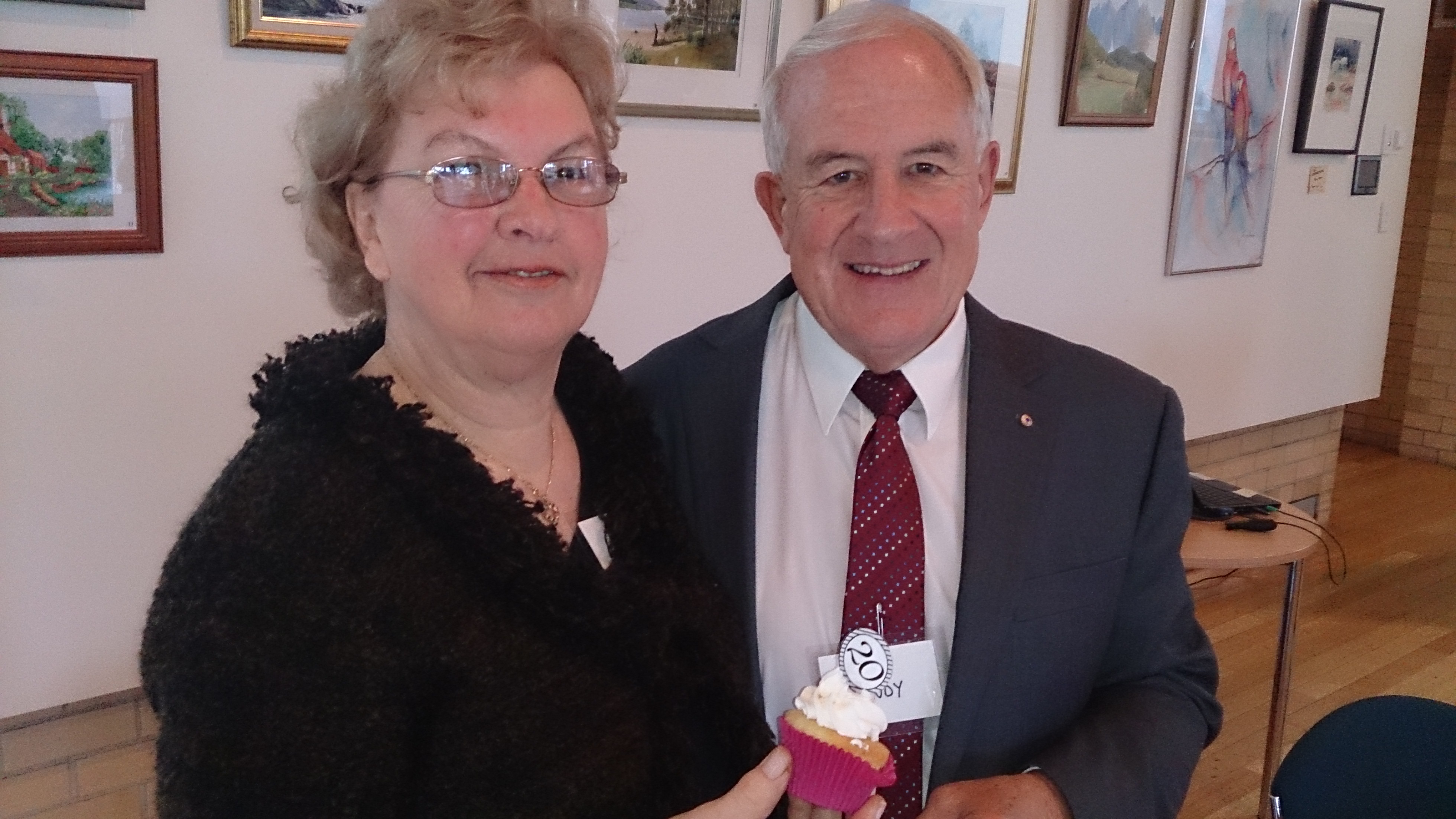 (Ross Whitcher, President Salisbury Friends of Library with Dr Alan Bundy)
(Jack Goodman, Dr Alan Bundy, Kristina Barnett and Ross Whitcher)
2013 FOLA President's Report
"FOLA remains one of the few national associations for Friends of Libraries, although threats to public libraries in countries such as the UK have stimulated forms of regional or national association."
"As an indicator of recognition of FOLAís existence and achievement for nearly two decades, its executive director and founder Daniel Ferguson has been invited to speak at the 2014 national library conference of the Korean Library Association, South Korea now having about 100 friends of libraries groups."
Tom Keneally (FOLA Patron) vists Balmain Friends March 2013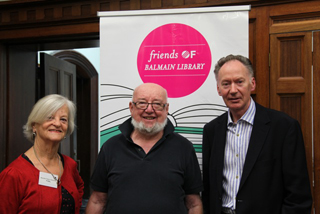 L-R Dr Mariella Totaro-Genevois (Chari Balmain Friends), Tom Keneally, Daniel Ferguson (FOLA)
2012 FOLA President's Report
"FOLA continues to hear about, and report on, the outcomes from effective partnerships between Library Friends, councils and their library managers. Yet across Australia more such partnerships are needed if public libraries are to prosper and meet their full community potential."
Read the full text of the 2012 FOLA President's Report.
2012 FOLA Award Entry Form
Please submit the 2012 FOLA Award Entry Form for the next round of FOLA awards. The closing date is 8th March 2013.
2011 FOLA Award Winners
Friends of Port Macquarie Library (NSW) - Colin Watson Award for Library Advocacy
Rockhampton Regional Library (Qld) - Eric Flynn Award for Library Services for Older Adults
Adelaide Hills Library Service, Coventry Library Stirling (SA) - Peter McInnes Award for Library Services and Programs for the New Generation
President's Address: More than Just Books
Address given at Dalby Library (Qld) (PDF - 170KB) 21 May and Rockhampton Library (Qld) 23 May 2012
FOLA Paper: Community Partners: Local Government, Public Libraries and their Friends
The latest FOLA paper (PDF - 296KB) presented at a celebration of the 30th anniversary of the foundation of the Friends of Mackay Libraries 10 November 2011 is now available for reading and downloading.
This year is the National Year of Reading
The National Year of Reading 2012 is about children learning to read and keen readers finding new sources of inspiration. Itís about supporting reading initiatives while respecting the oral tradition of storytelling. Itís about helping people discover and rediscover the magic of books. And most of all, itís about Australians becoming a nation of readers.
Visit the National Year of Reading web site to find out all about how to promote reading throughout Australia.
New Friends at Quirindi and Werris Creek (NSW)
Welcome to our newest FOLs - Friends of Quirindi Library and Friends of Werris Creek Library within the Liverpool Plains Shire Council and Central Northern Regional Library (NSW).
New FOLA website launched
FOLA launched its new web site in october 2011. To assist in bringing Friends Groups pages up to date, we are asking FOL groups to provide us with updated URL links. Please send details to Judith Field field051@bigpond.com
New FOLA Patron
Great Australian, author and historian Tom Keneally AO, has kindly accepted FOLA's invitation to become its new patron.
2012 National Year of Reading
FOLA is encouraging Friends of Libraries everywhere, and their libraries, to contribute to the National Year of Reading in 2012.